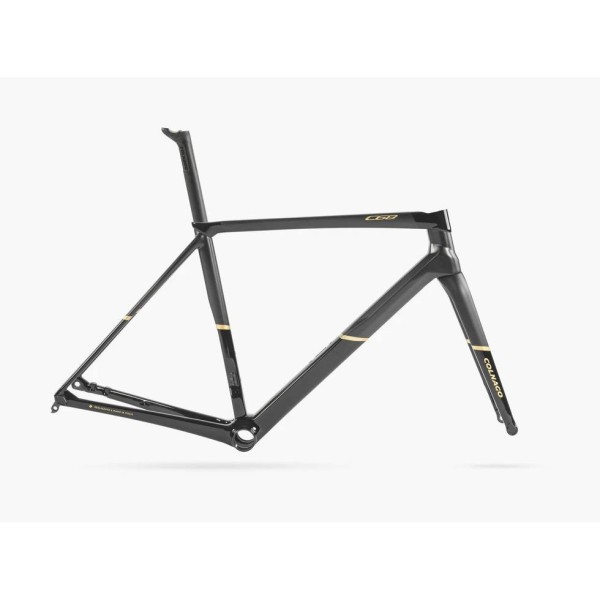  

By buying this product you can collect up to 450 point points. Your cart will total 450 points that can be converted into a voucher of €67.50.
Colnago C68 Titanium Disc Chassis
Brand - Colnago
Colnago C68 Titanium Disc Chassis

The C68 Disc Colnago represents the evolution of the C64 Disc. The frame uses completely renewed materials, but is built by hand with the same flagship techniques of the Cambiago factory
On the C68 there are still some visible joints that refer to the root of Colnago, while other joints appear invisible thanks to the new aerodynamic design. The number of parts that complete the chassis is the same as in the previous C series (C64). Although from an aesthetic point of view, the lines and style are more similar to those of a frame produced in one piece.
Features
Weight
The weight of the frame for a rough size 48 is about 925 grams, only 10 grams more (935 grams) for the titanium version.
Head tube
The new split head tube is now stronger, lighter and more customizable than ever. The parts have been reduced from 8 (C64) to 6, saving weight (less bonding area) and machining/gluing time.
Seatpost
Based on the V3Rs' seatpost shape, the half-truncated teardrop shape adds some aerodynamic performance, while offering better vertical compliance than the previous 31.6mm round seatpost.
Bottom bracket
Designed on the basis of the proven ThreadFit82.5, which is basically a PressFit with removable base sleeves, the bottom bracket lug is now more complex than ever. The grommet, which was usually a bolted plastic part, is now molded into the lug, to save grams and to offer the widest possible radius for the best shifting performance.
Hairpin
The fork goes from the previous "D" shape of the TFS, with the complex internal rib and the threaded metal pin glued along the entire length, to a 1"1/8 round tube much simpler, elegant and lighter. To slide the brake housing inside, a special patented eccentric steering system has been adopted, without having to use the bulkier and heavier 1.5" bearing.
Integrated multitool
The return to a round head tube allows us to give a touch of "we also ride a bike" to the bicycle. Everyone needs, sooner or later, a multitool to deal with every little adjustment that may be necessary during an epic excursion or not (like a flat tire).
Inclusive
Frame kit.
Headset.
Seat post.
Feed-through axles HH12.
100% secure payments
4 other products in the same category: