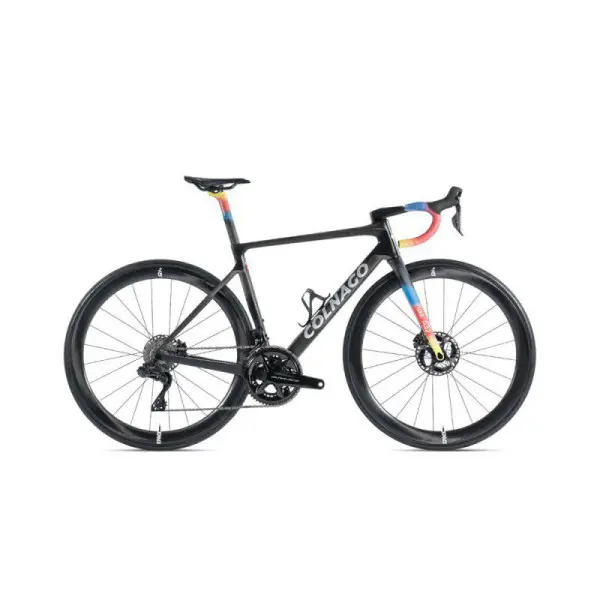  

By buying this product you can collect up to 331 point points. Your cart will total 331 points that can be converted into a voucher of €49.65.
Colnago Bike V4Rs Disc - WT23
Brand - Colnago
FEATURES
INCREASED OVERALL STIFFNESS
This chassis set is stiffer than the V3R. You can sprint faster and climb more efficiently. We have developed a new test methodology to simulate and measure stiffness realistically and effectively.
BETTER AERODYNAMICS
The profiles of the V4Rs have been revised to allow a decrease in aerodynamic drag. The Colnago V4R can now be considered an aerobike, based on its performance in the tunnel of the vento.
HANDLEBAR COLNAGO CC.01
The new CC.01 integrated handlebar is Colnago stiffer, lighter and more aerodynamic. Compared to the previous handlebar Colnago has -17% of front area and +5% of rigidity, weighing only 310g.
BOTTOM BRACKET T47
The T47 bottom bracket - the same size as the C68 - is oversized, to allow for better bike responsiveness and easier replacement than the previous standard Colnago.
V4RS DISC KIT:
#01: Group Campagnolo Super Record EPS Disc - Wheels Campagnolo BORA ONE 35 DB Cop
#02: Group Shimano Dura Ace R9270 Di2 Disc - Wheels Enve WS SES 3.4 C
#03: Shimano Dura Ace R9270 Di2 Disc - Shimano Dura Ace C50 WHR9270 Wheels
#04: Group Shimano Dura Ace R9270 Di2 Disc - Wheels Fulcrum Racing Wind 400 DB
#05: Group Shimano Dura Ace R9270 Di2 Disc - Fulcrum Racing 600 DB Wheels
#06: Dura Ace R9270 Di2 Disc Shimano - Enve WS SES 3.4 C Wheels - PowerMeter for Shimano Dura Ace Di2
#07: Group Shimano Dura Ace R9270 Di2 Disc - Wheels Shimano Dura Ace C50 WHR9270 - PowerMeter for Shimano Dura Ace Di2
#08: Group Shimano Dura Ace R9270 Di2 Disc - Wheels Fulcrum Racing Wind 400 DB - PowerMeter for Shimano Dura Ace Di2
#09: Group Shimano Dura Ace R9270 Di2 Disc - Fulcrum Racing 600 DB Wheels - PowerMeter for Shimano Dura Ace Di2
#10: Group Shimano Ultegra R8170 Di2 Disc - Wheels Fulcrum Racing Wind 400 DB
#11: Group Shimano Ultegra R8170 Di2 Disc - Fulcrum Racing Wheels 600 DB
#12: Group Sram RED eTap AXS Disc - Fulcrum Racing Wind 400 DB Wheels
#13: Group Sram RED eTap AXS Disc - Fulcrum Racing 600 DB Wheels
#14: Group Sram RED eTap AXS Disc - Fulcrum Racing Wind 400 DB Wheels - PowerMeter for Sram Red eTap AXS
#15: Group Sram RED eTap AXS Disc - Fulcrum Racing 600 DB Wheels - PowerMeter for Sram Red eTap AXS
#16: Group Sram Force eTap AXS Disc - Fulcrum Racing Wind 400 DB Wheels
#17: Group Sram Force eTap AXS Disc - Fulcrum Racing 600 DB Wheels
SIZES: 420 - 455 - 485 - 510 - 530 - 550 - 570
100% secure payments
4 other products in the same category: